Pizza & a Drink Offer at Station Tap
Enjoy our delicious pizza & drink deal all day everyday here at Station Tap!
Hand-stretched sourdough stone-baked pizzas, all with a tomato sauce and a mozzarella & cheddar base.
Choose an option from below (calorie information can be found at the bottom of this page).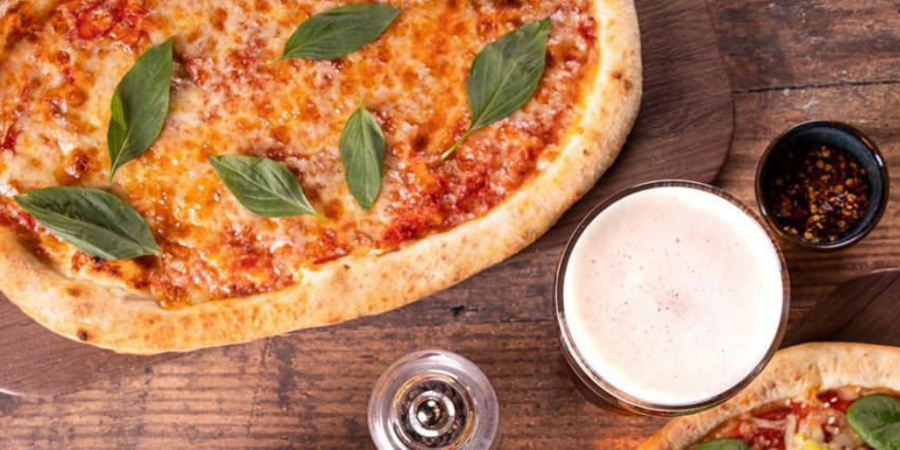 Pizza & a Drink For £10.00
Pizza Easy Cheesy
Tomato, mozzarella and Cheddar.
BBQ Chicken Feast
Chicken, streaky bacon and red onion, drizzled with sticky BBQ sauce.
A Load of Pepperoni
Loaded with spicy pepperoni.
The Mighty Meat
Spicy pepperoni, slow-cooked hickory-smoked BBQ beef burnt ends, streaky bacon and chicken.
Chick Flick
Chicken, spinach and red onion, finished with Cajun spice and sour cream.
Half Pizza and Half Salad
Choose 'easy cheesy (v)' or a load of pepperoni' VG-M OPTION AVAILABLE.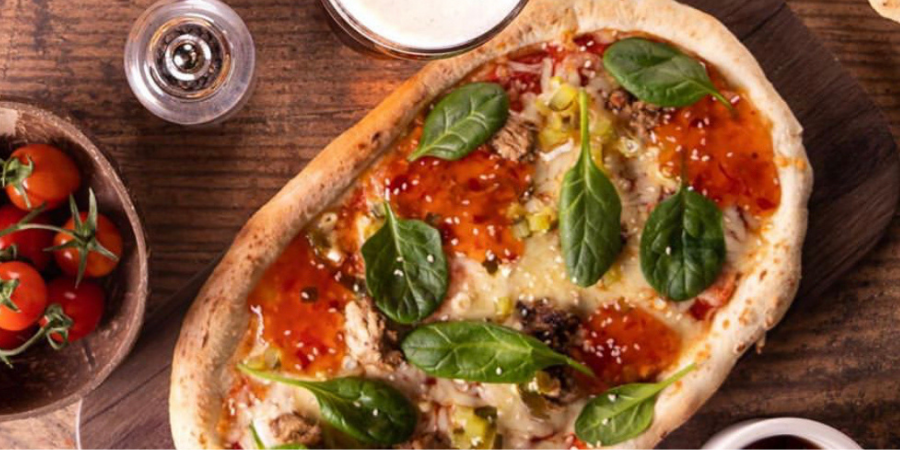 Pizza & a Drink For £11.50
BBQ DUCK
Shredded duck meat, sticky BBQ sauce, onion, fresh chilli and sesame seeds.
BUFFALO BLUE
Buttermilk breaded chicken, Stilton®, Frank's® RedHot sauce, sour cream and spring onion.
NICE AND SPICE
BBQ beef burnt ends, BBQ nduja spicy pork, red chillies, Cajun spice and mixed peppers.
BBQ JACKFRUIT (V)
With spring onion, fresh basil and vegan mayo. VG-M OPTION AVAILABLE
Choose a drink ...
Any pizza; plus a 16oz glass of Coke Zero, Diet Coke Or Schweppes Lemonade;
330ml bottle of Strathmore water; regular coffee; tea
Upgrade your drink for £1.00 extra
Upgrade to 175ml house wine or a pint of standard lager, cider or cask ale (under 4.5% ABV)
For £2.00 Extra
Go premium and choose from a selection of premium wine, lager, craft beer or Ciders.
Make sure you book a table at Station Tap
T&C's apply *From a selected range. All products and offers are subject to availability. Food and drink must be purchased at the same time. Management reserves the right to refuse custom and/or withdraw/change offers (without notice), at any time.
Calorie Information
Easy Cheesy - 1049 kcal (VG-M option: 975 kcal)
BBQ Chicken Feast - 1298 kcal
Load of Pepperoni - 1264 kcal
The Mighty Meat - 1431 kcal
Chick Flick - 1197 kcal
Half Pizza and Half Salad - 675 kcal (Easy Cheesy) or 783 kcal (Pepperoni)
BBQ Duck - 1379 kcal
Buffalo Blue - 1576 kcal
Nice and Spice - 1481 kcal
BBQ Jackfruit - 1271 kcal
Coke Zero - 2 kcal
Diet Coke - 1 kcal
Schweppes Lemonade - 70 kcal
Strathmore Water - 0 kcal
Coffee - 1 kcal
Tea - 1 kcal